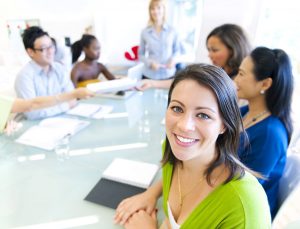 A happy working environment provides a wealth of benefits, from more content employees to a productive workspace; most of us spend 40 hours plus a week at work, it's important that our work spaces are meaningful and productive. Whilst stress is a part of life and some stress can maintain motivation, an excessive amount of stress or continuing stress can lead to damaging effects both at work and in our personal lives. However, a happier workplace and being mentally healthy, we are more likely to fulfil our potential, look forward to the day ahead and feel more pride in our work.
Here are our top tips for working towards wellness in the work place!
Encourage your employees to get their heart racing
Exercise is great for you, for more than just weight-loss! Did you know it's scientifically proven that exercise boosts your productivity, improves your mental health and releasing stress. In fact, as little as a quick 30 minute session of exercise (from a lunchtime walk to hitting the weights) can give you a 2 hour mental boost and one study even found an 5-10% improvement in cognitive function in those who regularly work out compared with those who don't. You could even push incentives for those who walked or cycled to work, encouraging exercise and looking after the environment at the same time!
Promote positivity in the workplace
However many perks you provide, showing appreciation of the hard work that your employees do will go a long time. Taking the time to comment on something they've done really well will go a long way. Why not encourage incentives like an acknowledgement jar, where your team can write notes about one another or have a whiteboard and marker.
Healthy eating
A well rounded diet makes us all feel great, so why not encourage your employees to get their 5 a day with an office fruit bowl? Why not create Wellness Wednesdays for your team and beat humpday with a healthy lunch or a lunchtime exercise class. Or encourage your team to engage with Meat Free Mondays? It benefits us and the planet at the same time! Why not hold challenges for those who eat their 5 a day most times in a month or consistently drink 8 glasses of water a day?
Flexible working
One of the biggest perks for 2017 has quickly become the possibility of a flexible working day, ranging from part time hours to working remotely a few days a week. Why not offer a fantastic perk, keep your team morale high and ensure you hold onto your top talent by staying competitive.
Team building
One of the best ways to increase team morale, is to have a happy and healthy team that work well together, making your team feel like they have support in their colleagues will make them look forward to their time at work. Which is why team building exercises are great and this doesn't have to be the traditional cringe-worthy ice breakers in a stuffy conference room, this can be anything from days out to a summer party.
Encourage learning and knowledge
Why not hold lunch time or after work events where your employees can stay at the top of their field? Or even encourage your team to learn a new skill? Have a local chef come in and talk about their favourite healthy snack or a photography tutorial to get your team's creative juices flowing.
Break out spaces
If you can see a member of your team getting frustrated or stressed at a project, why not encourage them to take 10-15 minutes out and go for a walk or take some time out in a comfortable break out space away from their computer? Break out spaces are fantastic for encouraging us to be productive when we're at our desks whilst ensuring there's a space to take a step back when we need it.
These are just some ideas to get you started! Here at The Business Centre Cardiff, we really believe in the benefits of a healthy and happy working environment, for our employees as well as our clients. Which is why we already have a free on-site gym for all of our customers to use whenever they need to take a break or to boost their productivity. Equipped with changing rooms and showers, as well as all the gym equipment you could need, you can have a great work out and then leave the gym feeling refreshed before you benefit from that creativity boost! Plus, we have break out areas for those looking to get away from their desks and need a different space to work in. Along with Mel's on the ground floor providing us all with tasty homemade meals and delicious tea and cake when we need a pick-me-up! Why not take a virtual tour whilst you are at it!