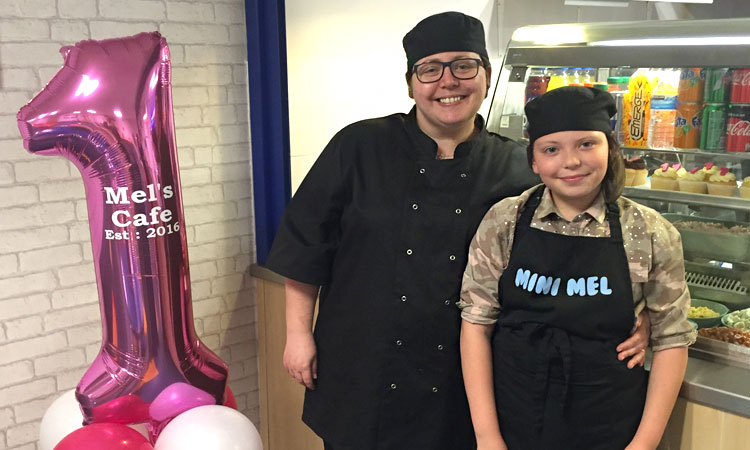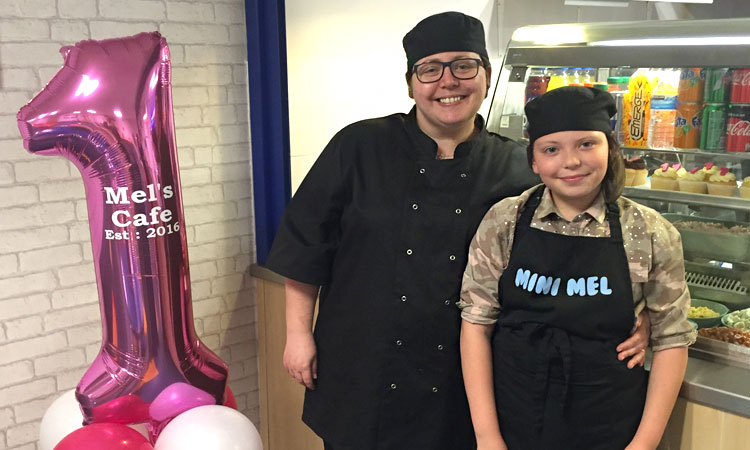 Not that we need an excuse to pop into Mel's dream cafe at The Business Centre (Cardiff), for a slice of her famous homemade cake, but we decided to take some time out with some coffee and a cake to have a chat with Mel to see what a typical day looks like for her! Mel recently celebrated her 1st birthday with us here at The Business Centre and baked lots of special cupcakes and filled the cafe with balloons!
Read below to find out a bit more about Mel and how she set about achieving her dream!
You recently celebrated your 1st birthday for Mel's Cafe at The Business Centre, how did that go? Did you do anything special or different?
I did, it was a lovely day, my customers are very kind and I had lots of birthday cards and birthday wishes! To say thank you to my customers for being so supportive over the last year, I baked some special cupcakes to give out. And to celebrate our first birthday, I created a brand new menu with more choice and a few new meals on it!
What does a standard day look like for you?
A standard day for me: I wake at 6am and get myself ready for work, before getting Mini Mel's (Abi) lunch packed for school, I drop Mini Mel to breakfast club before then heading into work for 8am where I get everything ready to go in time to open from 8.30am for breakfast. We serve breakfast from 8.30-11.30am and then we change to a lunch menu.
My employee, Rachel, starts work at 12pm where we serve lunch until 2pm and then we clean the kitchen top to bottom! I head out of the door just after 3pm to pick Mini Mel up from school. Each evening for us is different, yesterday, we went swimming after school! Then it's home to Mr Mel (Jason), where we cook tea together and then I settle down for a much needed early night!
What brought you to The Business Centre?
So I used to work at The Business Centre about 5 years ago in the cafe part time, which unfortunately only lasted about a year. As the years passed, I often thought of the cafe and how I would love to take it over. It had always been a dream of mine to have my own cafe, especially because of how much I loved to bake and cook.
Four years later…
My nail technician, Danielle, was doing my nails one day and we're busy chatting when she told me that she had been working with her mum, Dawn, at The Business Centre, I told her that I used to work in the cafe a few years ago and that I knew of her mum! She also told me that the cafe owners were leaving in a few weeks and there would be nobody to run the cafe. My mind was racing, as soon as she left I was on the phone asking to view the cafe! The very next day I met James Mason at the cafe who showed me around and then I signed the documents there and then!
Two weeks later, my dream came true and the cafe was re-named Mel's!
What do you love best about your job? Least?
I always enjoy seeing my customer's faces when they've enjoyed their meal or the look on their face when they're trying to decide between the different cake options! I really like that at The Business Centre, it feels like we are one big family because everyone is so friendly.
Least … doing the dishes of course! Haha!

What's your favourite thing at The Business Centre? 
The staff are very friendly, I really like the fact that it is a family run business.
What were you doing before you opened Mel's Cafe?
I was a house wife/mummy for a few years looking after Mini Mel and Mr Mel.
Have you had your own business before?
No, this is my first – it's been very exciting!
What do you like about running your own business?
My own independence
What are the challenges in business that you face?
I worry that my customers might get bored with the selection of food I do, so I need to keep it interesting.
Do you have any business ambitions?
My only ambition is to succeed, to serve and bake good food!
What advice would you give anyone wanting to start a catering business today?
Expect to work very hard and long hours
Would you do it all over again?
Definitely! I have loved every second.