April is a very special month here at The Business Centre Cardiff, not only is it the start of spring, 16 April is Mel's Café's birthday, run by our baking extraordinaire and fundraising queen, Mel! This year, Mel's Café will be turning four, time has absolutely flown and we can't remember what The Business Centre was like without Mel's!
Obviously, this year's birthday celebrations will be a bit different to previous years and we're going to have to have a really special party down at Mel's Cafe when it's safe to do so. But we didn't want the occasion to go unmarked, so we caught up with Mel to see how life in lockdown was for Mel, Mr Mel and Mini Mel!
The Trials and Tribulations of a Working Mum in Lockdown
Well as the Prime Minister, Boris Johnson, said: 'you must work from home, if you can' so, after I've made lunch for Mr Mel and Abi, I've left the bill for their food and drinks on the table. They just keep telling me to put it on their accounts…
My stepdaughter, Neve, who's sixteen has moved in with us, so I've been doing lots of baking with both of the girls. We've made cookies, cupcakes and the 80s classic… trifle! It was just as good as I remember! All this baking has made the perfect lockdown snacks.
In lockdown, I've had to take on an extra role and I've also become Mrs Mel the teacher! I've been trying to ensure Abi and Neve are getting a few hours of studying in every day. We don't know when the schools will be going back or when life will return to normal, so we don't want them to fall behind.
When I've not been teacher Mel, baking or serving the family bills for my services, I've been in the garden. This weather has been perfect for tidying up the garden and planting new flowers and it looks so much better now!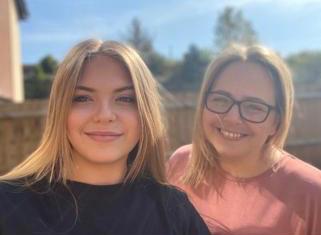 I'm sure the hardest part for all of us is not getting to see our loved ones, not being able to see their faces or give them a hug has been difficult, so I've been calling my Bampy a lot, he's 93 and I've been so worried about him. I've also been video calling my mum, sister and stepsons on FaceTime a lot, it's been so good to talk and see their faces, even on a screen, at this difficult time.
It has also been amazing hearing the Barry community come together to Clap for the NHS at 8pm on Thursdays, we're in very uncertain times at the moment but to know that we have this amazing community around us is so overwhelming.
Before the lockdown, I was busy planning our next fundraising event with Michaela from Pier Consulting which was meant to be raising awareness and money for the National Autistic Society, but we'll just have to have an even bigger and better event when we're all back together! I can't wait to see all my lovely customers again; I miss you all so much. We're like a family at The Business Centre, I love the community we've built and I'm so lucky to have a job that I love so much!
We're in very uncertain times right now, so make sure you help the NHS by staying at home and staying safe!
Mel is at the centre of our business family at The Business Centre Cardiff, not only is she running one of the best cafes in Barry, she is always organising collections to take to local charities, cooking huge mountains of hot food to give out to the homeless and organising charity events for us all to get involved in, as well as looking after her family!
We'll be raising a glass for Mel's Café's fourth birthday! 
Categories:
Meet Our Customers