This month, Rania and the team at RR Aesthetics are celebrating their second birthday; Rania has built a business around her love for transformations. Passionate about beauty, she has modelled for several local brands as well as building her own business in beauty and aesthetics. She has gone from strength to strength, recently opening a second clinic in Manchester! We are proud of our business community here at The Business Centre (Cardiff), and business owners like Rania really inspire us.
Rania's dream was to be a Dental Hygienist, whilst specialising in treatments like botox and fillers; however, university wasn't for her, so she looked for an alternative route into Aesthetics by training as a dental nurse instead. Rania says, her dental nurse training, and the medical knowledge that this gave her, really set the path for her work today, and opened the doors to her passion for aesthetics. In addition to her dental nursing background, Rania has also obtained certificates in Phlebotomy, Laser Therapy, Micro-blading and non-surgical aesthetics procedures.


How RR Aesthetics began
The change to aesthetics happened quite early into Rania's dental career, she was just nineteen and working as an NHS as a Dental Nurse. Rania booked an appointment at a Cardiff laser clinic and when the doctor saw her wearing her nurses' uniform he asked about her current role, before offering her a position at the clinic on the spot! The laser clinic was brand-new, offering her flexibility and the ability to keep her dentistry work going on the side whilst her aesthetics work grew. Eventually, she went full time at the aesthetic clinic and stayed there for almost three years, learning a range of treatments. In addition, she also gained vital insight into how to run a clinic as she was promoted several times until she was the Clinic Manager!
One day at the clinic, a lady came in offering semi-permanent make-up and gave a trial of her work; Rania was really impressed by the results and wanted the opportunity to train in it herself and offer it as another treatment at the clinic. The doctor that owned the clinic felt that it wasn't 'medical' enough. So, Rania decided to investigate it on her own and qualified as a Microblading Technician after completing a course in Cardiff. At the time, it was a brand-new treatment in Cardiff and Rania didn't know how to reach customers, so she started out by offering free microblading sessions from a room at home. Before long, word began to spread about Rania and her treatments, so she started renting a room in a salon, juggling it with her full-time job at the clinic. She started to build up some great recommendations through word-of-mouth and began to set up her business, choosing RR Aesthetics as her brand name.
As Rania's business grew, she was juggling her time between growing RR Aesthetics & her clients and working at the laser clinic in Cardiff. After several years at the laser clinic, Rania quit her role there to focus on herself and developing her own business.
It was at this time that a friend, who rented office space at The Business Centre, recommended that Rania come in for a tour of the centre. After Rania came for a tour and met Emma, our Centre Manager, she fell in love with the possibility that this could be an amazing opportunity for her to grow her business and start out entirely on her own. It was the flexible rolling contract that sealed the deal for Rania, she felt relieved that she would never be tied in for longer than 30 days.
Within a few weeks of opening her clinic here at The Business Centre (Cardiff), word had spread so far that it was almost impossible to book an appointment for the same month! Everyone wanted to have the 'feathered' touch from Rania!
Over the past two years, Rania has further advanced her expertise in aesthetics and obtained certificates in Micro-needling and Semi-Permanent Lip Blush treatments. Her technique and skills have quickly captured the interest of all her existing and new clients, who now refer to her as the 'brow queen'!
Without taking any loans or getting into debt, Rania has developed the clinic bit by bit, growing the list of treatments that she offers. It's amazing seeing how far Rania has come since being with us here at The Business Centre (Cardiff) and we're sure that her second clinic in Manchester is just the beginning of many more successes to come!
Through building a solid foundation of loyal customers that return to Rania again and again, spreading positive reviews through word-of-mouth and creating engaging content on Instagram, which is where she's really able to show off the amazing results of the treatments she has on offer. It's really important to Rania that her customers are happy with their treatments, that they feel at ease with Rania too. In beauty and aesthetics, it's so important that your clients trust you and your skills.
We asked Rania if she has any advice for anyone looking to start their own business and she said: I always did something that I wasn't ready to do, that's how you grow.
Rania and her team will be celebrating RR Aesthetics' second birthday at the end of January with a Microblading Training Day, and what birthday celebration would be complete without balloons and birthday cake?!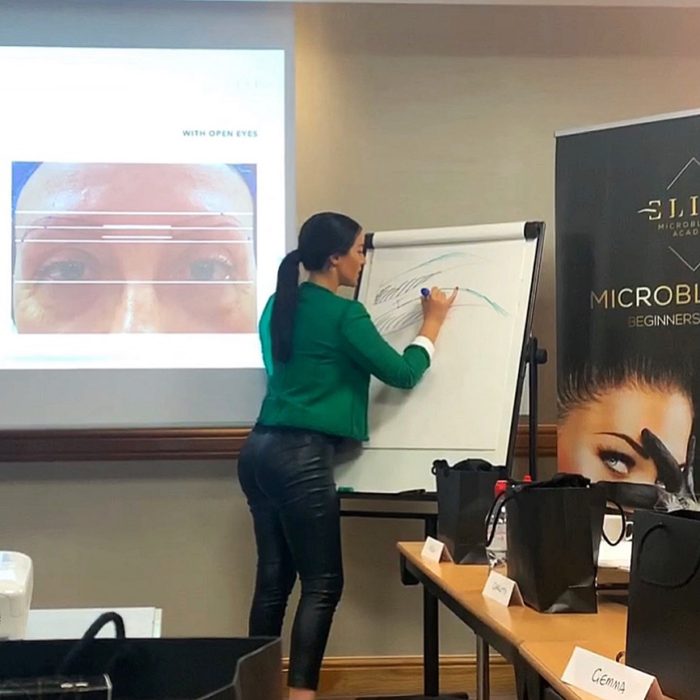 If you've been thinking of pursuing something new in 2020 or you're trying to get a new business or start-up off the ground, have you considered a flexible space in a serviced office like Rania did? We are located just 10 minutes from Cardiff Bay, Dinas Powys and Penarth. Our modern facility comes fully equipped with a range of amenities including super speedy broadband, breakout areas, a friendly reception team and free access to our onsite gym. Plus, the best cafe in Barry, Mel's Cafe! Whether you're a freelancer looking for a Business Address with full business support, flexible meeting room hire or a business with up to 14 employees looking for serviced offices, our packages can be perfectly tailored to suit your needs!