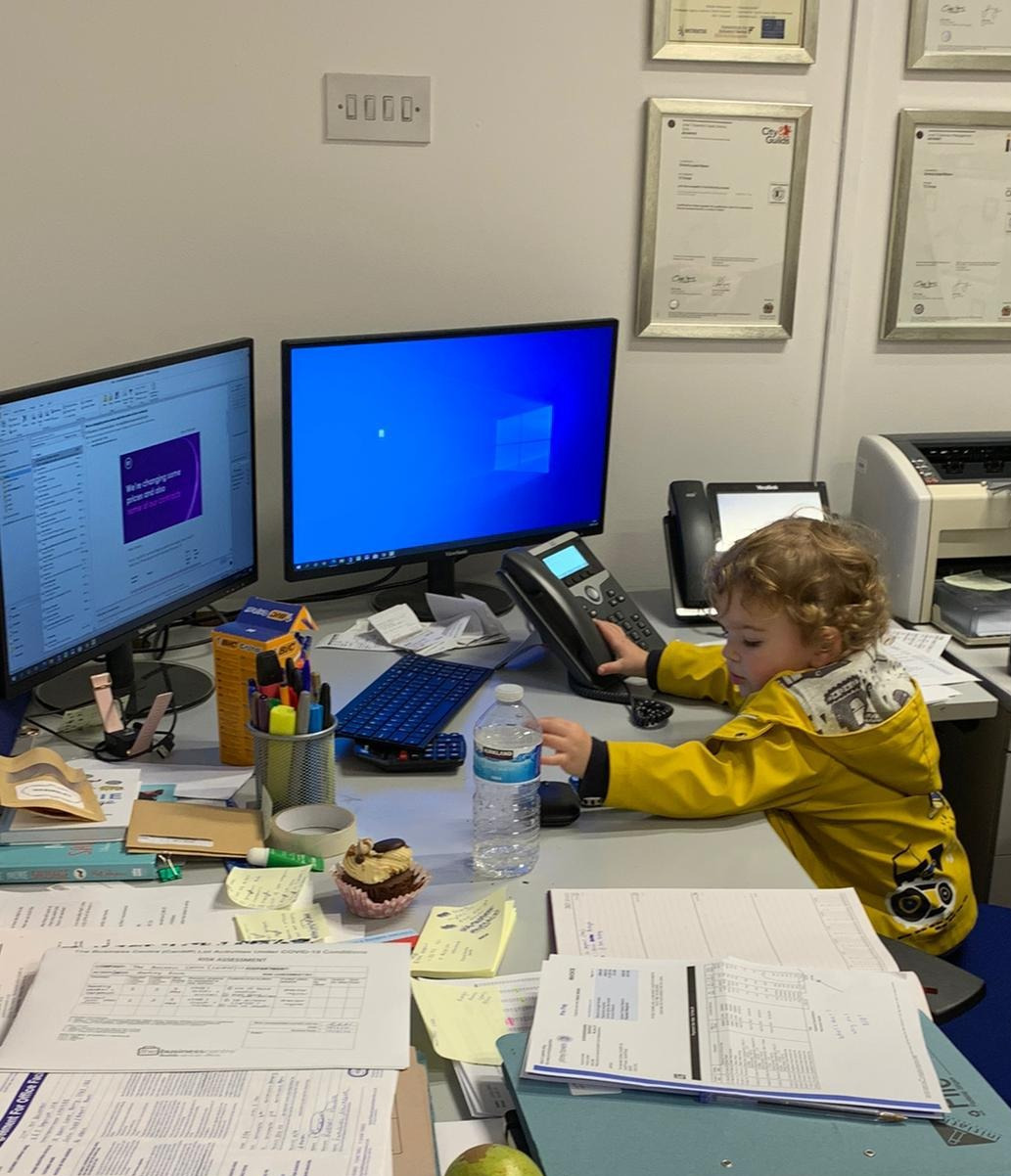 Last week ended with the news that many Welsh schools wouldn't be re-opening until early March at the earliest, with primary schools having a planned phased return in February. This announcement from the First Minister, Mark Drakeford, leaves many of us continuing to juggle home-schooling with remote working for another month at least, but what does it mean for our keyworkers? 
Many of you will know James Mason and his partner, Lucy. James was our Centre Manager before moving across to our sister company, Masons Self Storage, where he is now the Marketing Manager. Some of you may remember that we hosted a fundraising extravaganza event for CLAPA after their youngest child, Oliver, was born with a cleft lip and needed surgery when he was a baby. Their family of four knows all about the juggling of work, home-schooling and being a keyworker as Lucy is a Teaching Assistant.
Family life in lockdown
Lucy and James have been juggling childcare and home-schooling, although Jesse has been coming to work with James and visiting Auntie Emma at work, where he has found the small meeting room here at The Business Centre (Cardiff) the perfect space for him to do his schoolwork!
Lucy works three days a week as a Teaching Assistant at a local primary school, where she has been for nine years. Usually, Jesse would be at secondary school and Oliver would either be with a childminder, or his grandmother Andria (COVID19 allowing!), on the days that Lucy works. However, with schools only being only open to those who absolutely have to go in, Lucy and James will be juggling for a while.
During the first lockdown, families like James and Lucy, were given childcare vouchers by Vale Council to help with the cost of childcare. Unfortunately, this hasn't been the case this time around, although Morrison's have kindly giving school staff a discount on their food shop at the moment. Plus, Lucy receives a weekly email from the Vale Council Director with the latest info and stats for COVID-19, any changes to the rules and restrictions, as well as thanking staff for their dedication to their work.
Despite the struggle of working and home-schooling in a global pandemic, James and Lucy and their two adorable children are just about making it work. Our team have definitely loved having two extra helpers around the last couple of weeks!
Frontline Fatigue: keyworkers and the challenges they're facing
Although we've been riding the rollercoaster of COVID-19 for almost a year now, for those on the frontline, it has been almost the perfect storm for stress and poor mental health as they try to find their feet in an ever-changing and unprecedented situation.
Whilst Lucy and James are able to juggle childcare and work, there are many families that are finding it really difficult to manage it all. For example, Lucy's best friend works for Marie Curie Hospice and her husband works in the Armed Forces, with no nearby family to help, they've found it difficult to juggle work and school. For many families, even those who do qualify to go to school, it can be hard to balance working in the 'new normal' and childcare.
Plus, many essential and keyworkers haven't taken the usual amount of holiday, as for many holiday feels so wasted with nowhere to go or there is pressure in their workplace to show up due to staff shortages and sickness. Feeling burnt out, juggling work and school alongside the pressure of being on the frontline of a pandemic, has left many of our keyworkers feeling stretched thin.
The most important thing if you're feeling frontline fatigue or even just overwhelmed from this endless cycle, is to ensure that you have a support network around you. Even if it's just a sympathetic ear to listen or a more formal counselling set-up, we all need to feel supported and heard. If you're struggling, take a look at our top tips for looking after your mental health in lockdown here.
From everyone here at The Business Centre (Cardiff), we just wanted to take a minute to thank all of the essential and keyworkers for the amazing work that they're doing and the struggling and sacrifices that they've made over the last year. We truly appreciate everything that you're doing!
If you'd like to know more about our work in our local community, or take a leaf out of Jesse's book and see how flexible our meeting rooms are here at The Business Centre (Cardiff), why not drop our team an email: [email protected] or give us a call on 0800 634 9920.