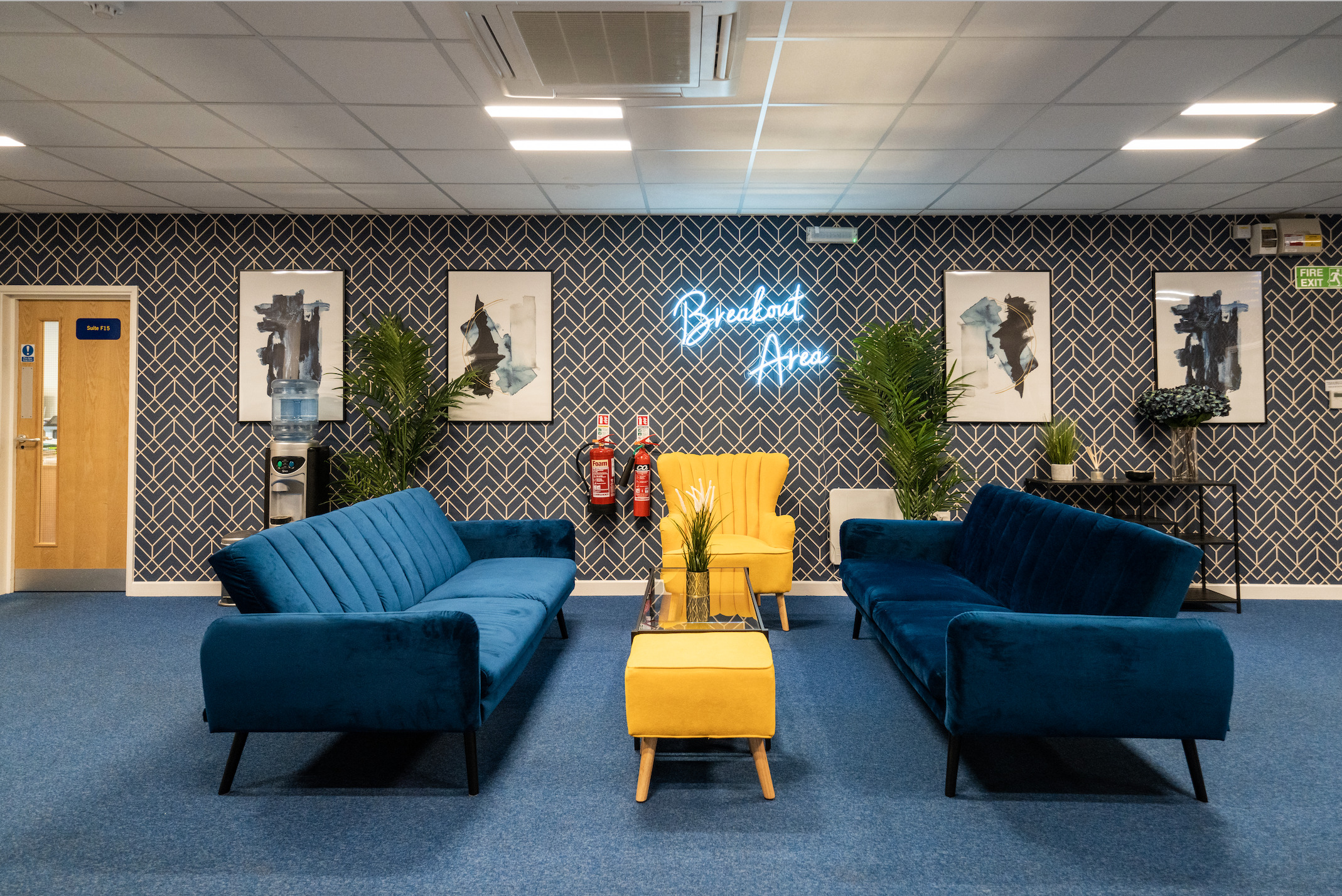 The Business Centre (Cardiff) Ltd has undergone a stylish transformation after we renovated our meeting room and breakout areas. This premium business address is now beaming with a fresh new look, and it's sure to turn heads!
Get to know us better
The Business Centre is where workspaces embrace a modern way of doing business. Here small to medium sized businesses enjoy all the benefits of an office space without long-term contracts trapping them for years. They can choose between co-working spaces (shared) on a month-to-month basis or a private serviced office for a minimum of three months. And if you don't want an actual office but need an esteemed CF postcode business address, we have an option for that too with our virtual offices.
Our breakout areas make a statement
Every office building needs a place for team members to take a break away from their desks, enjoy lunch and catch up with others. At The Business Centre, our tenants enjoy using this space to network and refuel their energy and creativity. Therefore, when we decided to upgrade our breakout areas, we wanted to do it in grand style. The result is pretty impressive if we say so ourselves!
We have two breakout areas, one upstairs and the other downstairs, designed by our very own Office Manager, Emma. These areas are bright, trendy, comfortable and exude unique designs, stylish aesthetics and a vibrant colour palette.
It's for those who appreciate modern style, statement pieces and pops of colour. As soon as you enter these rooms, a gleaming neon breakout area sign will grab your attention as it hangs from a feature wall with geometric patterns, surrounded by artwork. Two sleek, ultra-comfortable royal blue couches are the central part of the room – they complement a mustard yellow accent chair and ottoman, which add a splash of bright colour. What's more, stylish tables and chairs are spread across the room for additional seating options. 
Beauty and functionality at the meeting room
Our big, spacious and fully-equipped meeting room also got a fresh, new makeover! It now boasts a leafy garden wall with a meeting room neon sign and an eye-catching feature wall. It's designed to inspire teams and is a balance between beauty and functionality to make any meeting a success. Here, you can host networking events, conferences, board meetings, training courses, and so much more! By booking our meeting room, you are ensured personalised customer support and services that can be tailored to suit your business's needs. You will get access to the following services and facilities:
The Business Centre (Cardiff) Ltd is upgraded and ready for you to enjoy! To find out more about us and how you can secure office space or book a meeting room, contact our helpful team on 0800 634 9920 or drop us an email at: [email protected].