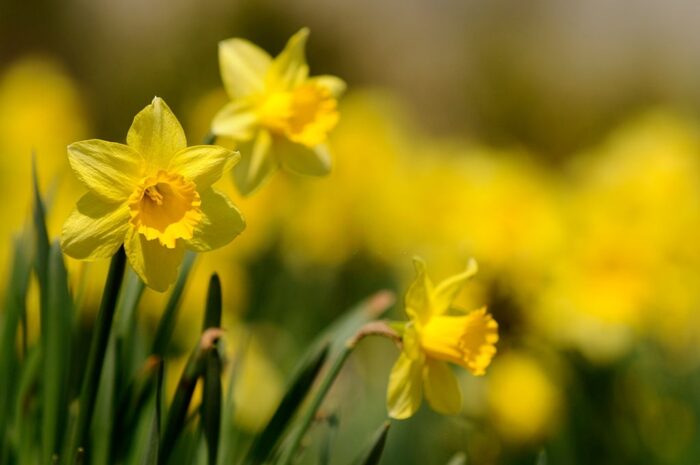 What makes you most proud to be Welsh and a citizen of our great nation? For us, it's our language and its long history that are just some of the many reasons that we're proud of when it comes to being Welsh! 
As it's St David's Day, normally one of the most colourful and brightest days in the calendar with music and parades, we wanted to celebrate this fantastic day in our nation's history and everything that it means to be Welsh. Even though this year it will be a very different kind of celebration. So, we decided to find out a bit more about our heritage, culture and language in celebration of St David's Day.
The History of the Welsh language
Did you know that our wonderful Welsh language, or Cymraeg, is thought to be almost 4,000 years old? And it's one of the oldest languages in Europe! However, at one point, it almost became extinct. This is largely due to Henry VIII's Act of Union in 1536, the use of Welsh was banned, and the official status of the Welsh language was removed. Looks like Henry VIII wasn't just a terrible husband, but he was anti-Welsh too!
Thankfully, over the last few decades, Welsh has been making a revival and it was recorded last year that almost 30% of people in Wales speak Welsh. We're so pleased that our language is making a comeback and we even have a few Welsh speakers here at The Business Centre (Cardiff) Ltd and within the Masons Group, including our very own, Emma Mason plus James, Warren & Fern Mason.
Welsh has made such a revival that in some parts of Wales, it is now used as a first language. In 2020, plans to reach an ambitious target of double the number of Welsh speakers to one million by 2050 were unveiled!
Who was St David?
Born way back in 500AD, St David was the grandson of the King of Ceredigion, Ceredig ap Cunedda. According to legend, his mother, St Non, gave birth to him on a clifftop in Pembrokeshire during a fierce spot. His birthplace is marked by the ruins of Non's Chapel as well as a nearby Holy Well, which is said to have healing properties.
St David went on to become a renowned preacher. He founded monastic settlements and churches across Wales, Brittany and Southwest England (including potentially the Abbey at Glastonbury). Stories of St David tell of an amazing pilgrimage that he made to Jerusalem, where he took a stone that now sits at the altar of St David's Cathedral – built on the site of his original monastery.
Known for living an incredibly simple life, St David and his monks ploughed their land by hand rather than using oxen and didn't eat meat or drink beer. In fact, St David apparently only ate leeks and water! Maybe this is why the leek is one of our national symbols?
Literally a miracle worker, St David has had several miracles associated to him. Perhaps the most famous took place in Llanddewi Brefi, when he was preaching to a large crowd and people near the back started to complain (the original heckle?) that they couldn't hear him, so the ground beneath his feet began to rise, until St David was stood on a hill. Then a white dove, sent by God, came to sit on his shoulder.
St David lived a long life (maybe it was all the leeks?) and died on 1 March, 589, which is why we celebrate St David's Day on the 1 March! He is buried at the site of St David's Cathedral, where his shrine has become a popular pilgrimage destination, especially throughout the Middle Ages.
St David's last words to his followers came from his final sermon: Be joyful, keep the faith and do the little things that you have heard and seen me do. In fact, you might have heard of 'Gwnewch y pethau bychain mewn bywyd' which means 'do the little things in life' and is still a popular Welsh saying today.
Did you know that the UK's smallest city, St Davids, is named after our St David? With a population of around 1,800 people, thanks to the cathedral, St Davids is recognised as a city! In comparison, Cardiff has roughly 358,000 people!
Dydd Gŵyl Dewi Hapus – Happy St. David's Day
Normally, we'd see the daffs' poking out their heads and we would be getting excited for a colourful day celebrating our patron saint! Unfortunately, this year St David's Day is going to be a different affair, but nothing can get in the way of us wearing our favourite daffodil and leek emblems, wherever we might be!
To help us all celebrate St David's Day in a Pandemic, a 72-hour virtual Gŵyl Dewi festival has been created to commemorate St David's Day in style! With everything from Hollywood star Luke Evans making an appearance to a cook-along with celebrity chef Bryn Williams, and Cerys Matthews reading the story of Dewi Sant! It's sure to be an amazing event, you can find the full Gŵyl Dewi line up here.
Dydd Gŵyl Dewi Hapus from everyone at The Business Centre (Cardiff)! We'd love to know if you are a Welsh Speaker and how you're celebrating St David's Day, let us know in the comments on Facebook!
Categories:
Local News
,
Uncategorized