Here at The Business Centre (Cardiff), we pride ourselves on the role that we take in our local community. We're always trying to do more to get involved in the Vale from Movember to installing our Welsh Hearts Public Access Defibrillator.
We're absolutely delighted that this community spirit extends across our entire business community! Despite living in these unprecedented circumstances and spending the past year in and out of lockdown restrictions, our community are always on the lookout for ways to help others.
Read on to find out more about three absolutely fantastic initiatives that our team at The Business Centre (Cardiff) and our community are currently involved in.
Raising money for Headway with our Digital Marketing Agency, ONCREE
Headway is a charity that works really hard to improve the lives of people living with brain injuries, by providing vital support and signposting. They support brain injury survivors to come to terms with their new circumstances, to re-integrate with their families and local communities as well as maximising their opportunities and choices.
They plan activities to help those affected to achieve their personal goals, these activities will often include tasks to improve social, communication and cognitive skills, ranging from those that are mentally stimulating, such as IT, creative writing and poetry, to practical activities such as pottery, gardening and woodwork, which help with dexterity and problem-solving deficits. Plus, there are opportunities for relaxation, group work and project work enable clients to build relationships in a safe environment.
On Saturday, 13 February, there was a Virtual Bingo event that some of our team here at The Business Centre (Cardiff) and the team at ONCREE, our Digital Marketing Agency, took part in! It was such a lovely evening; it was so well organised, and we were delighted to take part with over 60 other participants.
Their target was to raise £500, which they smashed through and we all had so much fun on Saturday night! If you'd like to get involved with any future fundraisers or show your support for brain injury survivors, head to the Headway website to find out more.
Any donations that Headway receive helps them to lobby for better support and resources, as well as to raise awareness of brain injury and the devastating effects that it can have. In addition, donations help to employ speech and language therapists, physiotherapists and occupational therapists.
Dynamo Cover raises £630 for four amazing charities!
The amazing team over at Dynamo have kicked off 2021 by raising money for four different charities!
Firstly, their team participated in Dry January and raised an amazing £130! They have chosen to split this money between three charities that are incredibly close to their hearts: Mind, Marie Curie and Prostate Cancer UK.
In addition, they recently donated an amazing £500 to Ella Niman Board who is raising money for the Meningitis Research Foundation by participating in an Arctic Dog Sledding Expedition across the Artic Circle, find out more about Ella's fundraising challenge here.
Working with The Trussell Trust to end hunger
Did you know that here in the UK there's now more than 14 million people living in poverty, including 4.5 million children? Due to the evolving COVID-19 situation, lockdown restrictions and so many people struggling with work, this situation is only getting more dire.
In 2021, we don't believe anyone should be going hungry but unfortunately the harsh reality is that more people are becoming reliant on food banks. Here at The Business Centre (Cardiff), we have joined forces with The Trussell Trust and our lovely Mel to collect items that food banks are desperately in need of.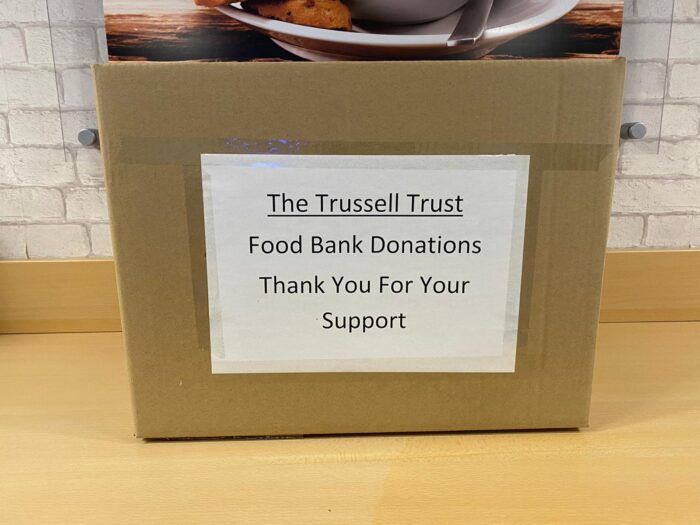 The Trussell Trust are desperately in need of items such as:
Long life milk
Long life fruit juices
Toiletries such as shampoo, conditioner and toothpaste
Tinned fruit and veg
If you have any of these items and you'd like to donate, please pop into Mel's Café (ground floor of The Business Centre (Cardiff) Ltd) and leave the items with Mel. She's collecting items and will be regularly dropping off donations at our local Trussell Trust.
We're so proud to be part of such an amazing community of small businesses and wonderful people here in the Vale that are all dedicated to helping others. If you have a fundraiser that you're raising money for or a local initiative that you think could do with some help, we'd love to hear from you and see how The Business Centre (Cardiff) and our community can help! Drop our team an email on: enquiries@thebusinesscentreonline.co.uk or give us a call on 0800 634 9920.
Categories:
Uncategorized