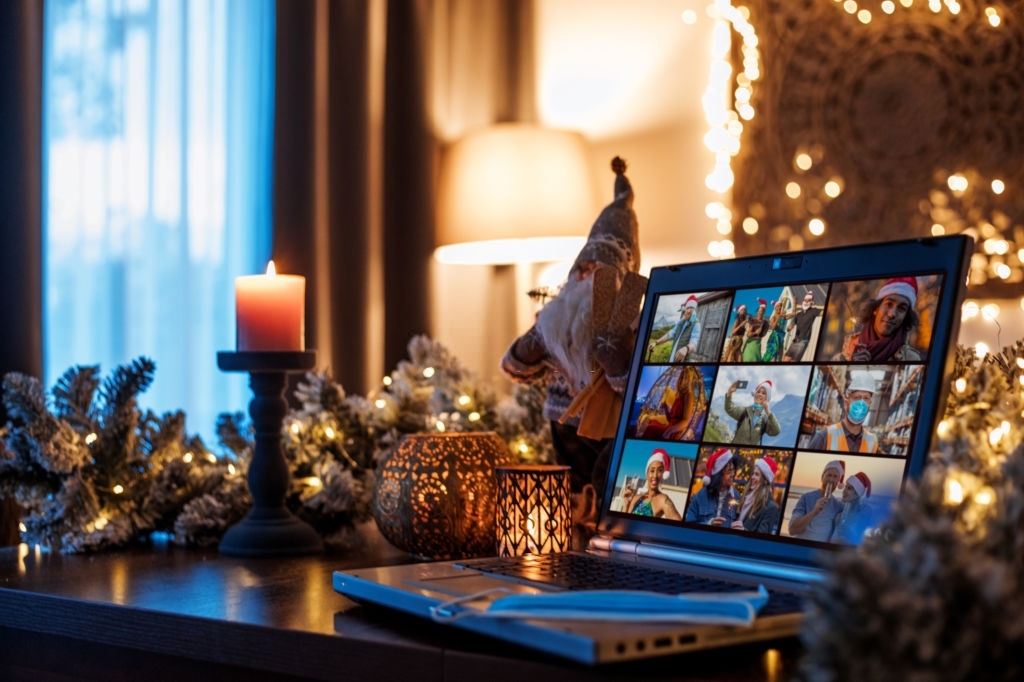 What is there to say about 2020 that hasn't been said before? We truly are living in unprecedented times, it's been 2020: the year of Zoom. But what will this mean for the office Christmas party this year?
We spoke to some of the businesses based here at The Business Centre (Cardiff) Ltd to find out what some of their plans looked like for the Christmas party this year.
Have yourself a very virtual Christmas
Virtual meetups and videoconferencing have very much been the theme of 2020 and it looks like a virtual Christmas party will be the way lots of businesses here in the centre are going. Especially in Wales with Government guidelines recommending that we meet no more than three other people at a time.
Although it looks like this is the way Christmas parties are to be across the whole of the UK. Digital Switchboard, Moneypenny, recently conducted a survey of 1,000 British office workers, revealing that 26% of their companies will be hosting a virtual Christmas party this year.
Dinner… at a distance
Some of our smaller businesses are opting to eat out as a team as they would've pre-COVID-19, especially if there's less than four of them in the office. The hospitality sector is just one of the many industries that have had to very quickly pivot and adapt to the 'new normal' this year, creating COVID-secure spaces for physical get-togethers. By creating dining spaces that are more spread out, bookings that are further apart or reducing the number of bookings overall, the hospitality industry is attempting to adapt to these strange times we're living in.
Long distance Secret Santa
What office would be complete without a Christmas Secret Santa? However, it's also looking different this year. According to Moneypenny's survey, 23% of office workers said that they're participating in a long-distance Secret Santa this year. The rise of websites like Elfster, a Secret Santa generator, over the last few years has made this easier and it's a great way to bring some festive cheer to your teams, even when working remotely.
Festive cheer for all
At the end of such a turbulent year and with the pandemic set to continue to rule our lives into at least spring next year, it's really important to keep morale high for our team and what better way than with a bit of festive cheer? Staying in touch with your team doesn't have to be complicated or expensive, even acknowledging small things like Christmas Jumper Day that we organised on the 11th December and encouraging your team to dress up can make your team feel more together.
We particularly love this story from Virgin Incentives; Danni Rush, Chief Customer Officer at Virgin Incentives and Virgin Experience Days spoke to HR News about the value of making extra effort this year for your employees:
Last month, Virgin Incentives ran a virtual cocktail making class with our team, sending out different ingredients to everyone at home and a cocktail shaker. We connected over Google Meet so we could 'cheers' virtually and share our experiences of making the drinks.
Although it takes a bit of logistical working out, it's a fantastic and easy way to connect with your team virtually and by having the activity, it ensures that you all have plenty to talk about!
If you're trying to get back to running your business but you're not yet ready to return to an office environment, why not take a look at The Business Centre (Cardiff) Ltd's Virtual Office packages? A virtual office has all the benefits of a serviced office such as a call answering service, mail and parcel reception, mail forwarding as well as a business address and access to a wide range of business support services. Email our team to find out more at: [email protected]