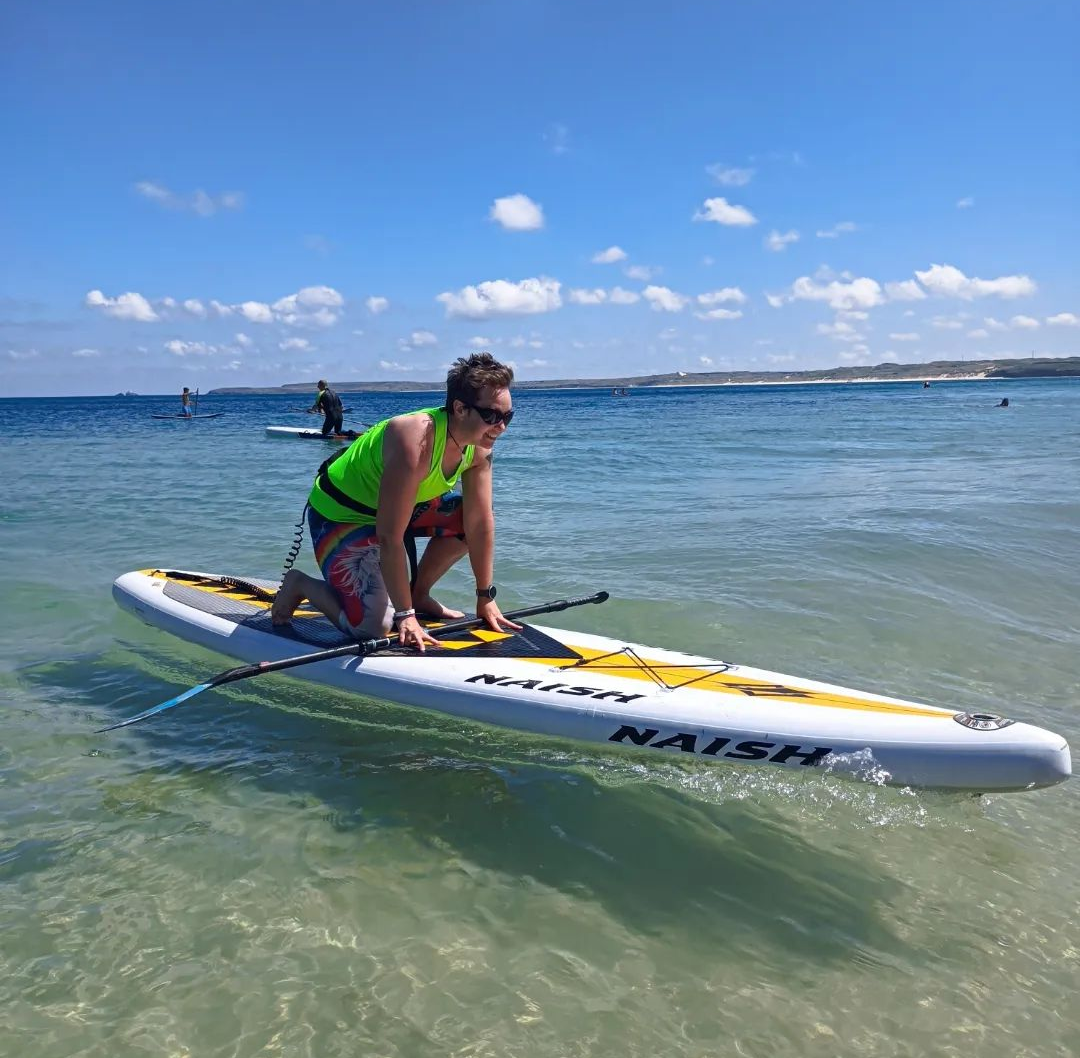 At The Business Centre (Cardiff) Ltd, we are inspired by local business owners who not only overcome challenges but also excel in their fields and motivate others. One remarkable individual who epitomises this spirit is Anna Snow, an exceptional personal trainer from Sully in the picturesque Vale of Glamorgan,who is reaching her dreams despite a diagnosis of brain damage following her battle with Covid.
A force to be reckoned with
Anna is no ordinary personal trainer. Her expertise is highly specialised, and her offerings are truly unique. She's a force to be reckoned with, having completed numerous gruelling events, including marathons, an IronMan 70.3, an ultra-distance duathlon, and yes, even a rollerblade marathon! Anna's passion for pushing her limits extends far beyond the gym, and her accomplishments amid challenges are an inspiration to us all.
A multi-faceted personal trainer
For Anna, personal training is not just about lifting weights or doing squats; it's about changing lives. She is a multi-faceted trainer who helps people from diverse backgrounds. Whether it's someone battling a medical condition, an athlete chasing peak performance, a senior citizen in search of vitality, or a child taking their first steps into fitness, Anna's got it covered.
But she doesn't stop there. Anna is the go-to trainer for anyone looking to manage their weight effectively. And when it comes to supporting mums-to-be and new mothers, Anna's expertise is unparalleled. From pelvic floor health to core strength, Anna guides them through every phase of their journey.
Tackling real-life challenges through fitness
As we settled into the cosy atmosphere of The Business Centre's delightful cafe, Mel's Café, we had the pleasure of sitting down with Anna to learn more about her journey.
Anna's eyes lit up with enthusiasm as she shared, "I've got a treasure trove of training under my belt— from medical referral training to specialist populations and pre-and-post-natal training.
"You know, I'm not just about reps and sets. I'm driven to help folks tackle real-life challenges like managing diabetes, boosting heart health, bouncing back from orthopaedic issues, fitness support through menopause and perimenopause, and so much more. My expertise isn't confined to the gym; it's about guiding people towards a healthier, happier life."
A behavioural approach to exercise & nutrition
Anna's personal training services are elevated by her lengthy background as a Senior Probation Officer—a role she dedicated a whopping 17 years to!
Anna shared, "This role introduced me to Cognitive Behavioural Therapy. I delved deep into the complexities of behaviour change and motivation, often dealing with high-risk cases right in the heart of London.
"This experience equipped me with a unique skill set. I can apply behaviour change techniques not only to help clients with their fitness but also to address those pesky negative thinking patterns that can derail success in both exercise and nutrition."
A gem of a fitness space at The Business Centre
Anna is based at Momentum Fitness, nestled within the vibrant Atlantic Business Park in Sully. But her reach extends even further.
"I've had the privilege of working with a brilliant client right here at The Business Centre's in-house gym. It's a gem of a space, offering all the essentials for a well-rounded workout routine."
Her clients are mainly based in the Vale of Glamorgan, however she also works with a diverse range of clients outside the county, including an inspiring 88-year-old in West Wales and a couple of folks in bustling London.
Persevering through brain damage
In March 2020, Anna faced an unforeseen challenge when she was diagnosed with Covid. It was a tough battle, and she didn't shy away from opening up about the profound impact the disease had on her life.
"The diagnosis left me grappling with neurological issues, including persistent tremors that I still deal with today. My neurologist discovered evidence of brain damage, particularly in the balance area of my brain."
Reclaiming her career after recovery
Through it all, Anna's resilience and determination shone through.
"Recovering and returning to the world of personal training was an uphill climb, both physically and psychologically. However, I believe those physical weaknesses have transformed me into a more empathetic person. This experience has taught me that with unwavering determination, you can conquer anything. It's a message I pass on to my clients, inspiring them to never give up and to believe in their own incredible potential."
For Anna, the single most important decision she made was to reclaim her career as a personal trainer.
"It's not just a job; it's my passion, my purpose," she affirmed.
Smashing stereotypes as a 40-year-old personal trainer
As Anna gears up to celebrate her 40th birthday next year, she's smashing stereotypes and challenging the preconceived notion that only the young can excel as personal trainers.
"I'm here to prove that age is just a number. I'm not just turning 40; I'm turning a new page in my journey. I'm still going strong, both in my personal training sessions and in my pursuit of knowledge. In fact, I'm currently working towards my Level 4 certification in Lower Back Pain Management. Remember, no matter your age, it's never too late to pursue your passion and expand your horizons."
A day in the life of Anna: Embracing adventure & wellness
Ever wondered what a day in the life of a personal trainer like Anna looks like? Well, here's a glimpse into her exhilarating daily routine:
"For me, an average day is all about staying active. I make sure to get in a daily walk, and throughout the week, you'll find me running, cycling, swimming, or hitting the gym. Variety keeps things interesting!"
But that's not all; Anna is a true adventurer at heart.
"Beyond my daily exercise, I'm passionate about paddleboarding, especially Paddleboard Polo. I love the thrill of sea rowing with a team, the rush of windsurfing, and the excitement of wakeboarding. And when winter rolls around, you can bet I'm hitting the slopes!"
Amidst her myriad activities, Anna found solace and balance with Island SUP club. This community of paddleboarding enthusiasts became more than just a club to Anna; it was a haven. While paddleboarding itself offered Anna a serene way to reconnect with nature, the club provided an invaluable support system. It's here that she began reclaiming her adjusted balance, especially following the challenges posed by her brain damage diagnosis. The camaraderie and unwavering support of Island SUP club have been integral in Anna's journey, enabling her to push her boundaries, embrace challenges, and rediscover equilibrium in the ever-moving waters.
Fitness in the French Alps & creative hustle
Anna's connection to the mountains runs deep. "I spent six unforgettable seasons in The French Alps," she reminisced, "and now, I'm gearing up to prepare a pre-season snow fit class."
But there's more to Anna than just sports. She's a multifaceted individual who enjoys the quieter moments too.
"In my downtime, you'll find me buried in a good book, writing, playing guitar, or expressing my artistic side as a muralist. You can check out my artwork at www.wallartsouthwales.com. It's my creative side hustle!"
A future packing with adventure & ambition
Anna's eyes sparkle with excitement when she talks about the future. She's got some fantastic plans in the pipeline!
"I would love to expand my online training and classes, bringing my passion for fitness to a broader audience while still cherishing my amazing existing clients. Virtual training has endless possibilities, and I can't wait to explore them."
But that's not all; Anna's adventurous spirit has her yearning for more international experiences. She reminisces about her time in the Three Valleys Ski area in France and admits, "Working abroad was a blast, and I'd love to do it again or collaborate with people from different corners of the globe. There's so much to learn and share."
And of course, there's the Level 4 certification she's diligently working towards. With her dedication, there's no doubt Anna will conquer it with flying colours. Her future is bright, and Anna Snow is ready to embrace it with open arms!
Resilience nothing short of remarkable
Anna's resilience in the face of daunting medical challenges is nothing short of remarkable. She's not just a personal trainer; she's a living embodiment of positivity.
"What keeps me going is witnessing the incredible transformations in people's lives. There's nothing quite like seeing someone evolve, reach their goals, and become fitter, stronger, and more healthy. It's a privilege to be a part of their journey, and it's what I love most about what I do."
The Business Centre (Cardiff) Ltd: Values your hustle & health
Are you looking to grow your business in a space that values your hustle and health? It doesn't get better than The Business Centre (Cardiff) Ltd. Choose from our Serviced Offices or Co-working Spaces and enjoy 24/7 access to our well-equipped gym with shower facilities. To secure your space or learn more about what we offer, get in touch with our friendly team at 0800 634 9920 or drop us an email at [email protected]. Let's get you fit and healthy while you build your business.
Read more inspiring business success stories, many from our happy clients, to help make your decision easier.