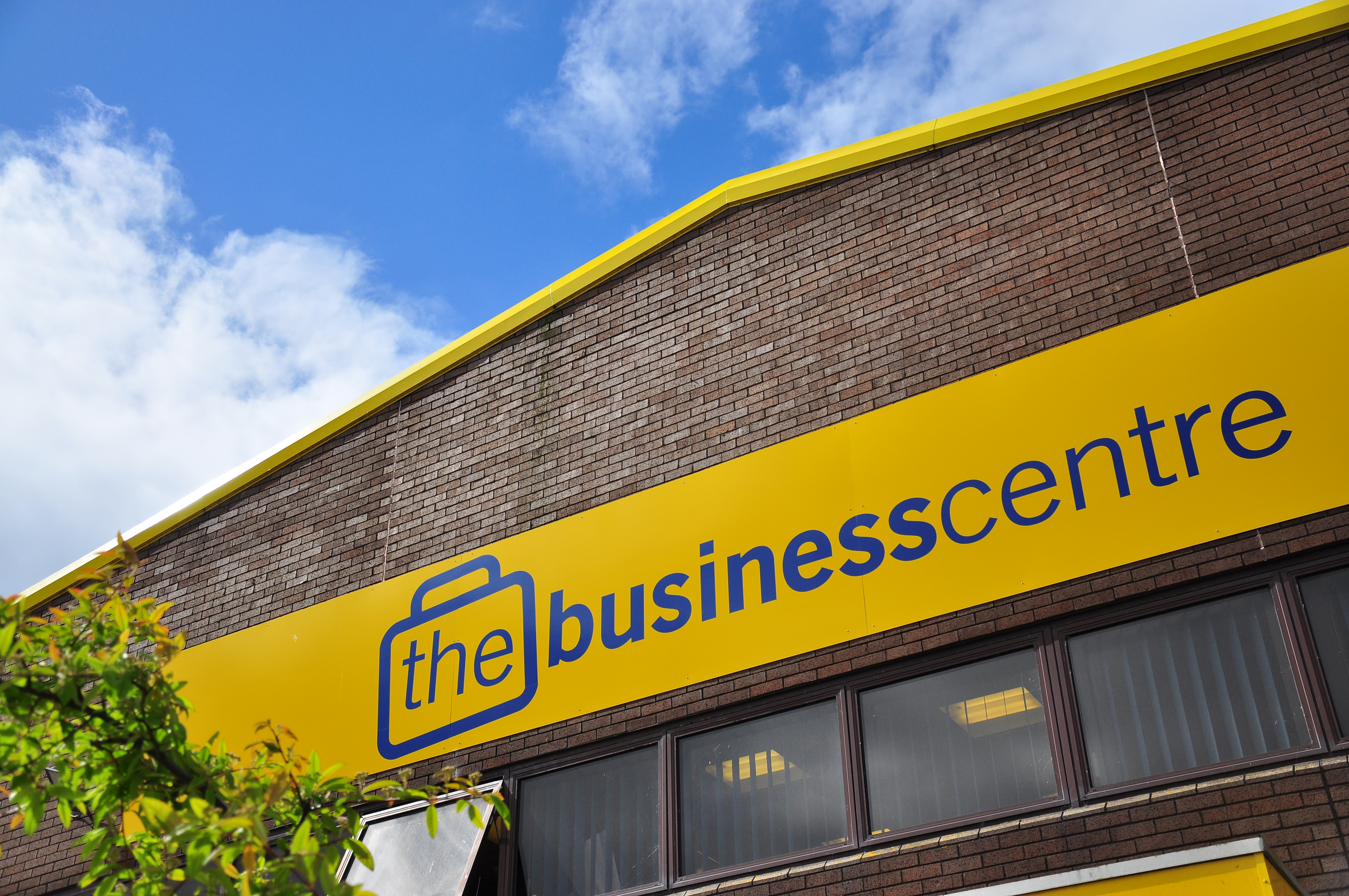 Is your home-based business prepared for increasing energy costs? Perhaps you can navigate your escalating energy overhead by choosing a flexible, serviced office space. Dive into the insightful interview with The Business Centre's Manager, Emma Mills, featured in The Vale Life magazine on pages 16-17. Emma delves into the benefits of a Serviced Office with a rolling monthly contract.
It's no secret that UK citizens are coming to grips with the sharp rises in household energy costs planned for this year. The biggest increase is expected in April 2023 as the government's "price guarantee" policy falls away, effectively reducing its assistance paying for household energy. If you're running a small, established business from home, this could spell trouble if you aren't able to manage escalating energy costs. Simply heating your home and using electricity in the same place you live and work could have major implications for your business and the quality of life for you and your employees.
Does working from home make financial sense?
We can't help but ask, is working from home really worth it? It was a necessity during the pandemic and became somewhat of a norm as many businesses adopted a remote work model. But amid energy cost rises, does it make more financial sense for small, established businesses to move away from the home base and into an affordable office space where their money goes further? We believe it is.
Curtail the rising cost of keeping the lights on
Serviced Offices, like those at The Business Centre (Cardiff) Ltd, are one way you can curtail the rising cost of keeping the lights on. It's also the perfect option if you're expanding and your current lease is ending. A small monthly fee covers your utilities and provides you with a fully furnished executive office tailored to your business, a range of exclusive business support services, all the necessary infrastructure, and the freedom to cancel your lease at any time.
NEW Monthly Rolling Contracts: Cancel at any time
Yes, you read right, you can cancel your lease at any time! We recently made our Serviced Offices more flexible than ever before with our NEW Monthly Rolling Contracts, giving you the freedom to enjoy all our services without being tied to long, rigid contracts. This new update has moved us away from a minimum occupation of three months as we felt this was still too much. Now, we have pushed the limits even further and set a new standard in the industry so our clients can enjoy flexi Serviced Offices with even more flexibility! *Terms and conditions apply.
Benefits of our Serviced Offices:
At The Business Centre, we're committed to your business growth. That's why we've made renting a Serviced Office with us as convenient as possible by including a range of services covered in your affordable monthly premiums.
Our team handles all your:
✓ Utility bills and daily cleaning costs
✓ Business rates (terms apply)
✓ Building insurance
and maintenance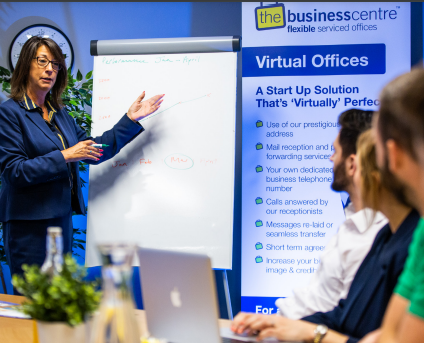 Plus, you get the following perks:
✓ Telephone system and handsets
✓ Executive office furniture
✓ Super speedy broadband
✓ 24/7 CCTV monitoring
✓ Free car parking
✓ Call answering and
mail handling
✓ Free in-house gym
and on-site café
Since 2008, we've been reinventing the office rental sector with flexibility and financial freedom at the centre.
A one-of-kind business destination
Our flexible offices are the modern way to rent office space. We've created a thriving environment that inspires business growth, productivity, creativity, and freedom. This is facilitated through a range of services and amenities that make us a one-of-kind business destination.
Our newest upgrades inspire
Recently, we've undergone a major transformation with revamps to our key onsite facilities, including our meeting room and breakout areas. We've also added a brand new showroom for businesses that want to showcase products.
Our meeting room and breakout areas now boast a fresh new look designed to inspire your team. Whether you're hosting a meeting, training course, conference, or networking event, you will have access to a modern, spacious meeting room that's complete with facilities and services tailored to your business – we even include a dedicated conference coordinator to manage the event from start to end.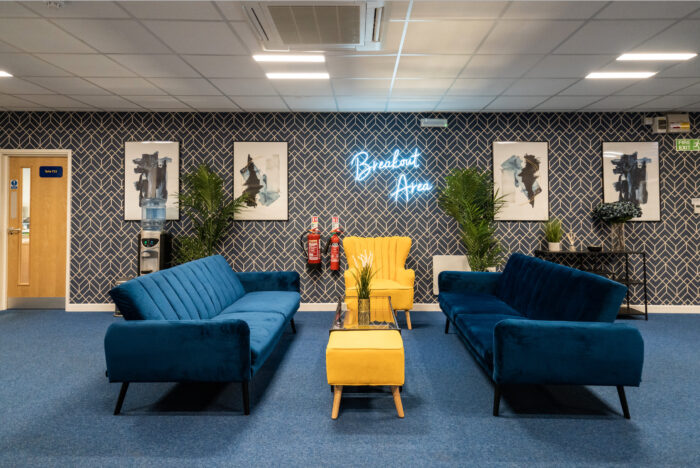 Our big & fully-equipped meeting room includes: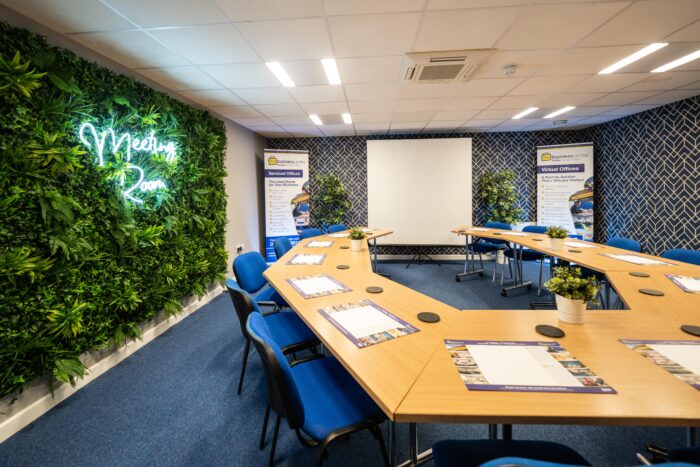 Vibrant reception & breakout areas
A dedicated conference coordinator
Free reliable Wi-Fi
Use of flip charts & overhead projectors
Free onsite parking
Room layout adaptation depending on your group
Availability of in-house catering
Complementary Twinings tea, squash, jugs of water, & sweets & mints
The Business Centre (Cardiff) Ltd features two vibrant breakout areas perfect for taking a break from your desk, enjoying lunch, or catching up with others. It's your spot to network and refuel your energy and creativity. The new makeover is a big hit with our business residents, who simply love the pops of colour, geometric artistic elements, and of course, comfortable seating. .
If you're a small, established business on the search for a flexible serviced office with everything you need included in an affordable monthly fee, from utilities to reception services, The Business Centre (Cardiff) Ltd could just be your perfect fit. Get in touch with our friendly team to find out more.
The Business Centre (Cardiff) Ltd
Cardiff House, Cardiff Road,
Vale of Glamorgan CF63 2AW
Call 01446 739911
www.thebusinesscentreonline.co.uk
FB :Thebusinesscentreonline
IG : thebusinesscentrebarry
*Monthly Rolling Terms & Conditions
First month's rent is due up front & a deposit of one month is payable upon setup
One months' notice to cancel at any time
The monthly rolling contract cannot be used in conjunction with a promotion, it's one or the other. For example: Our promotion offering 50% off our serviced offices in the first month ties you into a contract for 6 months.
The monthly rolling isn't an offer, it's a change in the contract flexibility.