Meet two progressive brothers changing the live events scene in Wales, Alex Milano and Olly Pitman, founders of the flourishing startup company, Your Staffing. Established last year, it's a niche business that offers flexible labour solutions for all types of events taking place around Wales and the South West. At its core, the business is fuelled by a great team of people who have the opportunity to learn, grow, and ultimately follow their passion.
A vision comes to life
The Business Centre (Cardiff) Ltd crossed paths with Your Staffing after the brothers chose us as their coworking space to take them to new levels of growth. We love how they value their clients and team members and couldn't be happier to have them a part of our business family.
We caught up with Alex at our in-house cafe, Mel's Cafe, to find out more about Your Staffing and why they chose our coworking space to grow.
"Your Staffing is a vision coming to life as my brother and I merged vastly different skill sets gained through our individual career paths and combined them to meet a need in the events industry," says Alex. 
A merging of skills
Previously, Alex worked as a sales manager in the food service industry, and prior he ran a marketing and promotion business in London's entertainment industry. Olly built extensive experience in London's events industry for 20 years. 
Together, they bring invaluable skills to the table, from a strong recruiting background and in-depth knowledge of the industry to the ability to motivate large teams.
Alex explains more about Your Staffing:
"If you're hosting a live event, we provide you with professional event crew contractors to build it. Even though we're new to the industry, we've rapidly expanded to 50 team members and already successfully set up many exhibitions and full event infrastructure in prestigious venues throughout the UK and Europe."
From home-based to The Business Centre
What started as a home-based business with frequent visits to the coffee shop quickly led to them moving to a stable business address at The Business Centre.
"As Your Staffing grew and our schedules filled up, we needed a more focused environment with all the resources to help us reach new, bigger goals. 

"I knew there was no better fit than The Business Centre since I previously built a connection with some of the amazing team members by supplying Mel's Café. I saw firsthand how they helped businesses achieve phenomenal growth and unlock unimaginable potential."
"You won't find many places like this in Barry – it's undoubtedly rare"
Our coworking space where Alex currently manages Your Staffing is a 4-desk office environment fitted with executive furniture, high-speed broadband connectivity, call answering and mail handling services, daily cleaning, a telephone system setup with a handset, and so much more.
For one affordable fee and a month-to-month contract, a coworking space at The Business Centre is perfect for businesses like Your Staffing. It provides an esteemed business address near Cardiff City Centre, professional offices with exceptional infrastructure, premium business services, and the freedom of a flexi contract. It's where you can focus on building your business while we take care of everything else.
"A coworking space is all we need for now, but we have plans to upgrade to a serviced office soon as a more private environment will suit our next phase of growth.

"You won't find many places like this in Barry – it's undoubtedly rare. I'm so happy it's the address for Your Staffing – it's smart, professional, friendly, and features all the facilities you need for work and play."
Double vision
Alex, Olly, and their team are working hard towards a bigger vision in the new year that will see their labour crews grow from 40 to 60.
"We want to make a name for ourselves in this industry by becoming the trusted, go-to providers for building events both big and small. Already, we are seeing progress towards this as companies in London are increasingly approaching us for help. 

"This has led to us securing double the amount of jobs for 2023 compared to this year. It's a major win for us, and we are planning to double our crews in the near future."
The future is female
Alex revealed that one of the biggest highlights for Your Staffing in 2023 will be establishing the first all-female exhibition crew.
"We are busy putting together an all-female labour force, and our client, who came up with the idea, will provide training from scratch." 

"We can't wait to open up this industry to more women, especially those learning completely new skills."
The meaning of success lies on the happiness of others
Although these are exciting times for Alex as he witnesses his vision take on greater meaning, he remains firmly grounded and wants to see his team reach their full potential, even if it means following a path away from the business.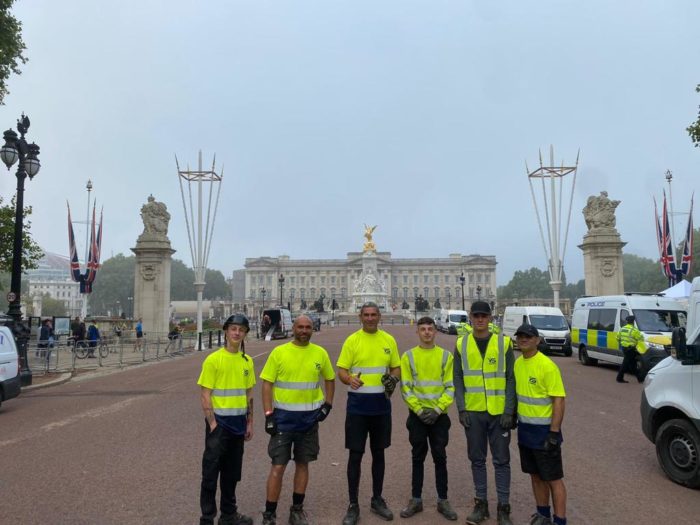 "It gives me a good feeling to provide opportunities for people and watch them progress. If I forget about me and focus on making sure all my guys are happy and making a success of their own careers, then my success will be a byproduct of that."
Are you thinking about relocating your budding business to The Business Centre (Cardiff) Ltd?
Read more stories from our happy clients to help make the decision easier. If you're ready to make the move, secure your space today by contacting our helpful team on 0800 634 9920 or drop us an email at: [email protected].
To learn more about Your Staffing, head on over to: [email protected]