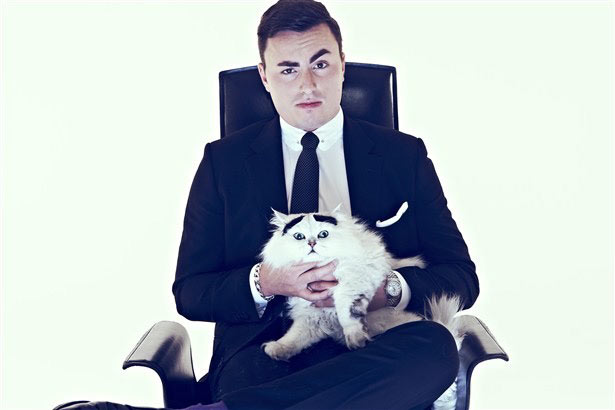 Here at The Business Centre (Cardiff) Ltd, we're thrilled to welcome Alex Mills to our ever-expanding business community! Alex was a contestant on The Apprentice back in 2013 and did Wales proud! He was the first Welsh candidate in 10 years as well as incredibly being only 22 when he applied to the show, plus he was also the youngest contestant of 2013!
We're delighted that our business family come from such a variety of industries and to welcome Alex to The Business Centre, we decided to venture a little into his past and see how he got to where he is now and to hear a little more about his journey since his time on the Apprentice.
Keen to leave school straight after completing his GCSEs and began working for a slate business in 2009/10, when the business went under, Alex took a redundancy package and decided to invest that money into setting up his own slate business venture based near Bridgend. Alex used his digital skills to grow the company and it expanded due to it's digital expansion generating 10,000 orders per year. The business even attracted clients such as the Royal Family! In 2012, the 21year old, entrepreneurial Alex was ready to invest again and sold his shares to his business partner and began to look into a new, exciting insurance project.
Selling his shares gave Alex access to the capital for his new project and feeling inspired by reading one of James Caan's books, The Real Deal, Alex decided to apply for Dragon's Den and The Apprentice. Whilst The Dragon's Den rejected Alex's application, he went on to reach the semi-finals of The Apprentice where he received one of the most complimentary firings ever! The Apprentice was an intense experience with 16 hour days of filming 3-4 days a week. Did you know that it takes roughly 360 hours of filming for each episode! Even though he was knocked out at the semi-finals, this experience taught Alex key skills such as how to think on his feet quickly and deal with a lot of pressure whilst making quick decisions.
Many TV offers followed The Apprentice, and Alex appeared on programs such as Celeb Juice and Virtually Famous however, Alex had no interest in being famous for his eyebrows and being Welsh. Instead he wanted to inspire future entrepreneurs with a series of talks in schools around the UK, he used his experience to support and encourage others to think about starting their own businesses and again, Alex now 24, was itching to get back to business!
Whilst on The Apprentice, Alex began an insurance company so it was easy now for him to turn his attention back to this. Insurance is an incredibly competitive industry but it's something that everyone needs throughout the year and Alex felt he could come at it from a new angle with a new customer perspective as well as revolutionising the industry using technology and IT to create a smoother customer experience. Dynamo was re-launched providing a service, with no stuffiness, good quality products and very competitive price. Its new perspective is what makes it so successful and in just two years Dynamo went from start up to a seven figure revenue generation!
Alex (now 27) believes strongly in the use of technology to bring a more modern route of purchase and customer experience to business. He works with WYN Communications to deliver a brilliant technology and digital strategy. He believes that a focus on customer service is not only improving the customer retention but also giving customers faith in purchasing other products and services that are offered to them. After starting up with offices in Swansea, the rate of growth in the business meant that Alex and his team were looking for a move closer to Cardiff and that's when he came across The Business Centre just outside Cardiff. In his own words, he is a 'Flamboyant Maverick, who doesn't fit anywhere', so therefore he decided to make his own home. Long-term his goal is to build up the insurance services as well as bringing in other financial services and the flexibility and support of the Serviced Office facilities package at The Business Centre are a perfect fit for these goals. Alex told us that it was also the location, the onsite facilities such as the gym and Mel's café as well as the local business community feel that appealed to him.
We asked Alex what he would say to a budding entrepreneur and we couldn't agree more with him:
Just do it! Don't be afraid to start small, have vision and ambition but it's important to get the fundamental bits right. Don't sit there and think I can chuck in my job, find a way to test the water. Have a go and if it doesn't work, just learn from it, dust yourself off and start again.
Alex Mills shows us that there is definitely life after The Apprentice and we are delighted that he chose The Business Centre (Cardiff) to support him on his journey.